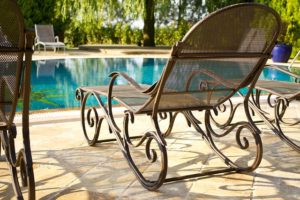 With summer well and truly here with a bang everyone's thoughts are understandably focused around outdoor entertaining and lazing around in the swimming pool. Whether you're looking to get a pool installed or wanting to up-grade your existing one, we've been taking a look at some of the latest pool design trends.
Sure, it's an unashamed plug, but we just thought we'd mention at this point, that whatever the style of your pool we can supply a top-quality pool cover for it. Now we've got that out of the way, let's take a look at some pool design trends.
Lounging area
Also known as a 'sun shelf' creating a roomy shelf over the top of your pool steps makes a fantastic place to not only feel the water on your toes but also place your sun lounger.
Relaxing on your lounger in the water means you can keep an eye on the kids and top up your tan.
Plunge pool
If you've only got a small space, then don't despair, there's always room for a plunge pool. The extra depth of a plunge pool means you can enjoy a workout and why not consider installing swim jets to gain the same health benefits as you would with a larger pool.
Pool design trends – Resort styling
Forget about jumping on a pool and jetting off to a far-flung destination. Another of the more popular pool design trends is the resort look. From sun shelves to built-in bars and spa tubs to contemporary elements and high-grade finishes, your swimming pool area could rival that of any first-class resort and you've only got to travel as far as your backyard!
Technology pools
Thanks to the latest advancements in swimming pool technology, running your swimming pool couldn't be easier. With a touch of a button on your smart phone, PC, or tablet you can control filtration, heating, lighting, sound, water features, and even cleaning, leaving you more time to put your feet up!
Pool edging
It's also important to consider the type of material best suited to your swimming pool area and the pool design trends you're trying to achieve. The material you need for the edging needs to be visually appealing but practical and safe at the same time too.
Don't forget to factor in pool fencing as this may help you decide on the style of pool you want to go for and the necessary landscaping to give it a wow factor.
Last of all don't forget about using a pool cover. We make top quality pool covers for all shapes and sizes of pool. No matter which of the pool design trends you're considering, we've got it covered. Why not check out our pool covers and if you need more information call the experts at Just Covers on 1300 268377.