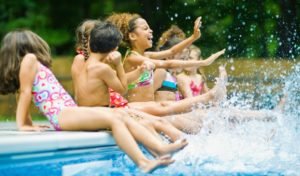 Have you still not made up your mind about getting a swimming pool? Certainly, getting a pool is a large investment but it does have some unique advantages. If this is your first-ever pool, then some of the benefits may not have occurred to you. So go ahead and take a look at 5 reasons to get a pool installed.
Great for exercise
Exercising in a pool can help you lose those last few pounds you've been struggling to shift and tones all parts of your body too. Not only is swimming a low impact form of exercising but it's great fun too – come on, do you know anyone who doesn't like swimming?
Wear out your kids
Kids have boundless energy and tiring them out can be a tricky task. Not so when you have a swimming pool. Everyone knows how kids love to play and splash in pools all day long and because they've been out in the open air all day, come bedtime they'll sleep like a baby! Naturally, kids need supervision while they're in the pool but hey, what could be more enjoyable than lazing around your pool on a lounger with a long drink of something cool and a great book to read.
Pools are close and convenient
One of the best things about getting a pool is the fact that it's right in your backyard. It's your own little slice of paradise with no need to get into the car to drive there and no bags to fill with all that you might need once you're there. When you consider how many times you'll use your pool and how long a pool lasts for, you begin to realise the benefits of having one.
A pool grows with you over time
Many of the purchases you make are done because they fit in with your lifestyle at the time. A swimming pool fits in your life at any time of your life. Whether you're single, a couple, a family, or grandparents – there's never a time in the future when a swimming pool isn't fun and useful.
Pool party
Forget about your kids for the moment, think about what a great pool party you could throw. Having a swimming pool provides the perfect backdrop for all kinds of social events. All age groups enjoy swimming or even sitting on the edge dangling their feet in the water. Kids can splash around and wear themselves out while the adults can enjoy uninterrupted conversation for a change.
Once you get your swimming pool and you need a cover for it, don't forget to check out Just Covers. Our pool covers are custom designed and installed by industry experts. If you need more information or have any questions you want to ask, give us a call on 1300 268377.