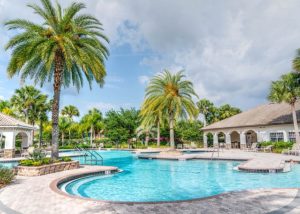 Are you one of the many Australian homeowners with a unique landscape and a dream of having a swimming pool? Well, the good news is that a free-form swimming pool provides the perfect opportunity to take advantage of the space you have available.
What exactly is a free-form pool?
It's a natural looking pool featuring flowing lines or curves and an irregular shape and style. Modern freeform pools often have rocks and waterfalls and are designed to look like a natural lake or pond. Some homeowners worry that they may have problems  with irregular landscaping or that their space is too small, but don't worry. A freeform swimming pool pools is a trend that fits well into small spaces 😊
The beauty of freeform pools is that your options are endless. From kidney shape to irregular they feature curves, flowing lines, and defined edges and actually create space in a backyard. Unlike rectangular or round pools, a free-form swimming pool can adapt to any area. In essence, it provides an organic look which blends seamlessly into the landscape as if it has always been there.
Countless options
Some people prefer the classic kidney shape pool whereas others prefer to choose from options enabling them to achieve a look that is natural and casual, in both style and shape. The curves, lines, and defining edges are what gives the pool its modern look.
Beauty or function?
The advantage of a free-form swimming pool is that it enhances your backyard while giving you a pool that the whole family can enjoy. There are several factors to consider before deciding on its shape. For example, if you want to swim and exercise in your pool then you might want to choose a shape that is fuller and rounder with flowing lines.
If, on the other hand, beauty is more important, then stretching it with more curves is a good option. There are plenty of accessories to enhance the look and functionality of a freeform pool such as a beach entry (perfect for children), tanning shelves, and in-pool tables and furniture. When it comes to a freeform pool, the only limit might be your imagination.
Just like any swimming pool, a free-form swimming pool will benefit from being covered when it's not in use, helping to keep it clean and cutting down on chemical usage. A pool cover also keeps out debris and keeps your water warmer, thereby extending the pool season.
At Just Covers, we design and install top quality pool covers for all shapes and sizes of pool. In fact, we can fit covers to pools that others have dismissed as being impossible. If you'd like to know more about our pool cover service then please contact the experts at Just Covers by calling 1300 268377.