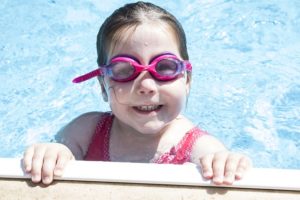 This article discusses how a pool safety net can prevent your child from becoming another statistic in child death by drowning
A swimming pool in your backyard can provide hours of enjoyment for your child and helps them exercise too; but did you know that it's the third most common cause of death for children between the ages of 1-14?
A child can drown in as little as 20 seconds – yes really! And, children under the age of 5 are most at risk.
According to the Queensland Family and Child Commission, 10 children below the age of 5 drown on average in Queensland each year. In fact, in 2015, Queensland had the highest number and rate of child drownings in any Australian state or territory. Its rate of drowning was 1.8 deaths per 100 000 population aged 0-17 compared to other jurisdictions which were all lower than 1.0 per 100 000 population.
Compliant pool fencing is one way to protect young children but as most parents know, most kids using their initiative can get where they want to go in minutes, and this includes access to the family pool.
So what's the answer?
In short, a pool safety net.
What exactly is a pool safety net?
A pool safety net gives parents the ultimate control over access to the spa, pool, or any aquatic feature for that matter.
With today's busy lifestyle, it's simply not possible to supervise a child every moment of the day. While a fence will save you getting a fine, a pool net will save your child's life.
Our pool safety net is a great choice for anyone not wishing to detract from the look of their pool and in case you were wondering – no it doesn't interfere with automatic pool cleaners.
It can be fitted to above and below ground pool, over a solar blanket, and even over an empty pool. It's also exceptionally light in weight and takes less than 5 minutes to fit or remove. The net is supplied with an easy to use mini-roller for convenient storage and to prevent the net from tangling. A tensioning system which works by means of a pulley is used to tighten the net once it is in place and this, too, is supplied when you purchase a safety net from Just Covers.
Benefits of our pool safety net
Keeps children out of danger – the size of the mesh is designed to be small enough that a toddler can't get their head through it and large enough to discourage movement
Keeps children off the pool – the 10cm mesh size prevents small children from climbing onto the net and landing themselves in danger. The net feels abrasive to the knees which should stop a child from moving further.
No areas of exposed water – Most children under the age of 12 would not be able to remove the pool safety net. We design it to fit the exact shape of your pool and when it's properly positioned, anchored, and tensioned, there should not by any gaps around the edge that a child could crawl under.
Total visibility – another feature for peace of mind is that you can see the bottom of the pool quite clearly through the mesh
Convenience – there is no need to remove the net to give your pool a chemical treatment
Looks good – Our pool safety net is available to purchase in Ocean Blue or Matt Black
Our pool safety net has been marketed worldwide for more than 30 years and in that time there has never been a reported drowning with a net that has been correctly installed.
Give your child, your grandchild or your child's friends, the ultimate protection with a Just Covers Pool Safety Net. If you need more information or would like a free no-obligation quote, please get in touch with our pool experts by calling 1300 268377.
We serve Melbourne, Sydney, Brisbane, Canberra, Perth, NSW Central Coast and Illawarra and can deliver DIY safety nets throughout Australia, New Zealand and South East Asia for self-installation.