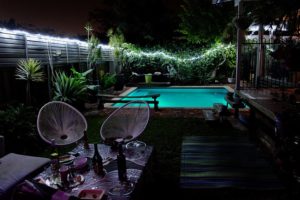 Having a swimming pool is a great way of relaxing with family and friends and getting a backyard pool gives endless opportunities for impromptu parties. But to get the most use out of your pool you need to be able to use it at any time of the day or night – which is why it's so important to have pool lighting.
Pool lighting provides many benefits, so let's dive in and take a look.
Allows you to use your pool at night
Lighting up your pool will make your backyard look more enticing and beautiful. It also allows you to extend its usage way into the night to make the most of warm summer evenings. The type of lights you choose should light up areas such as stairs and ramps.
Increases poolside safety
A LED pool light helps to increase poolside safety. It allows you to use your pool for swimming and as a spa while backyard lights make it easier and safer for you to do so. Pool lighting gives better visibility of your pool area.
Highlight special features
Pool lighting also enables you to highlight certain pool features such as cascading waterfalls and chutes. Small, colourful LED lights can be used to highlight
Waterfalls
Fountains
Bubblers
Spas
Jets
Baha shelves
Lifts your mood
Once you see the magic of pool lighting in your backyard you will feel your mood lifting. The backyard becomes a paradise that extends way beyond your swimming pool. Lighting adds drama, mystery and magic to your environment and is sure to create some memorable moments.
Great for celebrations
Pool lights are great for creating a party atmosphere and encouraging everyone to let their hair down and have fun. Festive coloured lights are perfect for anniversaries, birthdays, and pool parties and are the best way to bring glamour to your backyard.
Pool lighting nowadays is available in innovative and unique styles as well as various LED products to add to new or existing pools. With LED lights, your swimming pool feels energised and gives you a totally different experience from day time swimming. Vibrant lights will jazz up your pool area and enhance everyone's outdoor swimming experience.
Get the party up and running faster
While we don't supply pool lights, we can provide you with a bespoke pool cover to keep your pool beautifully clean and free from dirt and debris and enable you to get the party up and running faster. Not only do these keep your pool cleaner but they also keep your water warmer and reduce your chemical usage.
Here at Just Covers we design and install pool covers for pools of any size and shape. So if you'd like to find out more, then why not get in touch with our pool experts by calling 1300 268377.