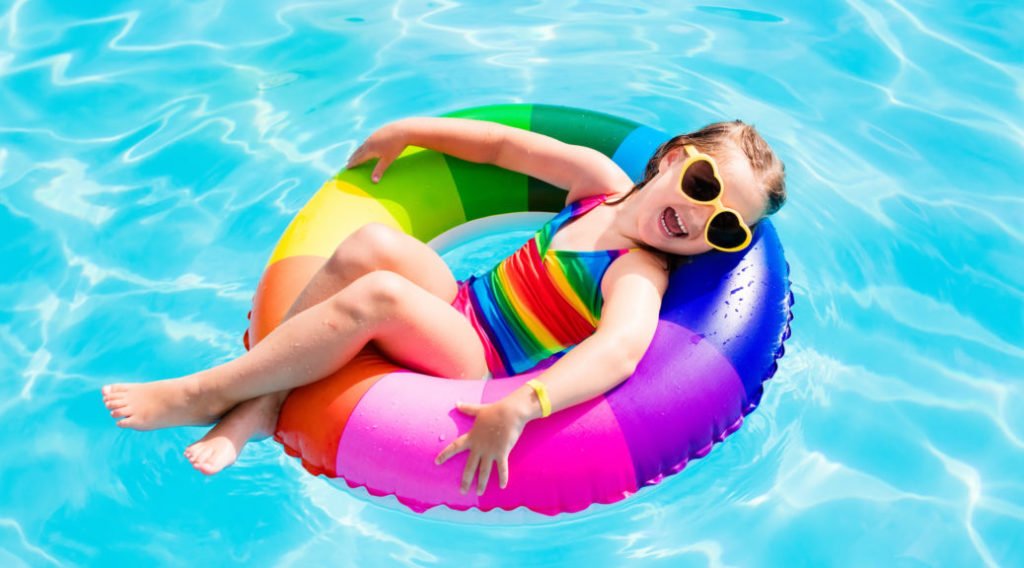 Springtime is one of our favourite times of the year. Partly because we know that summer is just around the corner. Soon it will be time for families to spend lazy afternoons and evenings around the pool.
Start preparing for summer
If you haven't started making preparations for the pool season, then now is a good time to start. Once it comes to time to dive into your pool, it makes sense to be prepared. That way you can make the most of it.
Now is also the time to purchase a pool cover, if you don't already have one. (More about this later).
Tips for enjoying a fun-packed pool season
Spruce up your pool area – Have you been considering adding an outdoor kitchen or even a firepit? Don't leave it until the summer to begin any building work. You don't want your pool area to be littered with bricks and sand so that you and the family are facing disruption when its full-on pool season.
Plan your landscaping – Perhaps you haven't given landscaping much thought in the past. Spend time researching plants, trees, and other outdoor elements that can turn your pool space into an attractive and relaxing haven.
Stock up on floats – Long gone are the days when a pool float was little more than a rectangular lounge float or an inflated tyre. Nowadays you can find just about any float imaginable from unicorns to mermaids, some with shades and cup holders. Why settle for boring when you can have amazing!
Upgrade your lighting – Think about your lighting and how it can be improved. The right lighting can showcase your pool area and create the ambience for a pool party. There are plenty of creative and unique lighting elements to consider. Or, if you're on a budget, a string of fairy lights or rice paper lanterns can add a party atmosphere.
Plan your next pool party– Speaking of parties, it's never too soon to be planning your next pool party. Deciding on a theme, settling on the guest list, and getting in touch with caterers, is nearly as much fun as the party itself.
Add a new pool feature – Have you ever fancied adding a rock waterfall to your pool? They really give a pool the wow factor. Also, did you know we can design a pool cover to fit around any water features? Just imagine relaxing with the sound of cascading water in the background. Perhaps now could be the time to commit and make it happen.
Swap out your cushions and pillows– If the cushions and pillows on your loungers are looking faded or worn, then consider changing them for this season's 'new look'. It's a relatively inexpensive and easy way to make your pool space look more inviting.
What about entertainment? – While it's still relatively cool outside, now is the time to organise a television or sound system installation that will keep the family and your guests entertained throughout the pool season.
Reading material – Who doesn't love relaxing poolside with a good book? Rather than wait until your pool is open for the summer to decide what to read, spend some time researching book lists and stock up on reading material.
Indulge yourself with a new 'pool' wardrobe – Don't wait until the summer is here to decide that your swimwear doesn't fit properly or looks a little jaded. Instead, start searching for the perfect swimwear, cover-ups, and sandals – this last point is a fun one for the ladies😊
Buy a Pool Cover
Now, back to the need to purchase a pool cover. Many people think covering the pool is just something that's done in the winter. However, there are plenty of benefits to be gained from using a pool cover all year round, including:
Slows down water evaporation during the hot months and can save you money on your water bills
Keeps leaves, flower petals, insects, and debris out of the pool
Keeps heat in the pool helping to retain the warmth of the water even when temperatures drop over night
A pool cover keeps your water cleaner for longer meaning you may not need so many chemicals to keep your pool clean in future
Reduces maintenance spent on cleaning your pool
Here at Just Covers, we sell custom pool covers for all sizes and types of pool, even those with water features. If you're interested in a pool cover then call 1300 268377 and speak to our experts about our pool cover design and installation service.