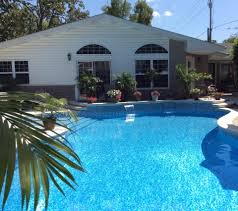 Have you finally cracked under pressure from your family to get a swimming pool installed into your backyard? Well, the first thing to do is to decide which size of pool suits your family and your lifestyle. It's important to make the right choice because once the builders are in and have made a start, it's not that easy to make changes. With this in mind, here are a few pointers to help you choose the right size pool.
Write a checklist
A swimming pool is a sizeable investment, so you need to cover all your options. It helps if you start by writing down everything that you and your family will need, enabling you to make an informed choice.
Questions to ask yourself include:
Who is likely to use the pool and how often will they use it?
Is the size of your family likely to change in the coming years?
Is the pool mainly for recreation or exercise?
Will you use your pool on a regular basis for entertaining friends and neighbours?
Are there any construction or planning requirements that need to be considered?
If yours is a large family, then a big pool will enable your kids to splash around at one end while you can stay out of their way and cool off at the other end. If there is just you and your partner, then you might prefer a smaller pool with a stunning design that makes a real showpiece for your home. The amount of usage is also another consideration that may determine the size pool you opt for.
Consider the size of your family
While there might only be the two of you right now and you're thinking a plunge pool is probably all you need, are there likely to be grandchildren in the foreseeable future? We're guessing you probably want to be their favourite set of grandparents 😊
Just remember, when planning a pool to also consider what the future might hold.
Exercise pool
If you mainly want a pool to help you keep fit by swimming regularly, then have you considered a swim spa? This is a large spa which can be hot or cold provided with jets that let you swim against the water current. It could be just the perfect option for you.
Entertaining
If you like to host large groups of family and friends, then a swimming pool is a great feature to have. Keep in mind, however, that it's unlikely that everyone will be in the pool swimming at the same time, so you may need a smaller sized pool than you were originally thinking.
Plunge Pool
Do you need a smaller pool with less water and that is easier to maintain? A plunge pool is easily fitted into the smallest of gardens and adds a wonderful visual appeal. Perfect for couples, it can even be incorporated into the landscaping to make a feature in your back yard.
Planning
Naturally, the location and size of your property are likely to dictate the size, shape and design of your pool. Furthermore, it's not unusual for strict planning requirements when positioning your pool near your boundaries, so be sure to consult an expert to make sure your design meets any local government planning standards.
Going through this list will help you make an informed decision about the size of swimming pool to choose. Once your pool is built, then don't forget to invest in a swimming pool cover. Just Covers provide top quality swimming pools to fit any shape or size of pool. If you're not sure which type of cover you need, call on 1300 268377 and speak to the experts.