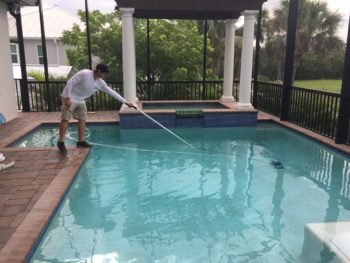 If you've overheard anyone talking about brushing their swimming pool, you might have thought what on earth's that about? After all, you've got much better things to do with your time, such as swimming and relaxing in the pool 😊
Let's start of with the main reasons for brushing your pool. Here goes …
Prevents scale – When a pool isn't covered, particles from the air are deposited into the water. If they're not filtered out, they sink to the bottom of the pool and over time this causes a layer of film to build up.
Prevents algae – The micro-pores of a pool's surface make a great place for algae to find plenty of tasty food and before you know it, they've got a firm
foothold
Prevents etching – When a pool is brushed it feels softer and smooth. You should always brush your pool after adding calcium, salt, or pH decreaser, as this will protect it from corrosive etching
Prevents stains – Pool stains are typically caused by a combination of minerals, dirt, oil, and small metal objects on the bottom of your pool. It makes sense to brush the dirt off the surface before it causes staining.
It's also good exercise for you!
When should you brush your pool?
When your pool has just been plastered, you'll find there's a large amount of dust which needs to be brushed and filtered to avoid stains and scale forming on the pool's surface. Twice daily for two to three weeks, should cut it. Your pool should also be brushed after adding chemicals to help disperse them, so they don't stain. Chemicals alone won't remove algae and stains, you will need to exert a little physical pressure by removing them with a pool brush.
How to brush a pool
Use a short pole for the walls and extend it for the floor
Start by first brushing the shallow end walls, steps, and benches
Brush the floor at the shallow end towards the deep end drain
Brush the walls of the deep end and the deep end floor last of all
Try to keep your back straight and follow through with a long reach
Types of pool brushes
You can find a variety of pool brushes including
Nylon bristle brushes which are suitable for all of your pool surfaces
Corner brushes suited to skimmers, jets, and corners
Stainless steel brushes for pebble surfaces and plaster
Aluminium handles and frames are a good choice because they're stronger and more durable and you can normally choose from a variety of lengths. To help your brush last longer, keep it out of the elements in a shed or pool box.
Finally, if you don't have one already, consider investing in a pool cover which will keep debris out of your pool when it's not being used. At Just Covers we provide a wide range of pool covers tailored to your pool needs and the size of your pool.
Check out our website for more information and if you have any questions about our products or want to place an order, give our friendly, experienced team a call on 1300 268377.