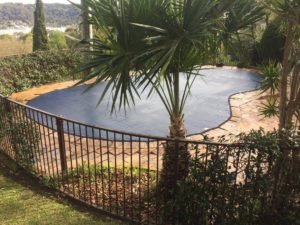 When the sun is beaming down and you're feeling hotter by the second there's no better way of cooling down than jumping into your pool. An attractive swimming pool adds to the aesthetics of your garden and provides hours of fun for the family. However, once summer has ended and the temperatures start to cool, you may be wondering what's the best way to manage your pool over winter. What should you do to maintain it and ensure that it's functioning properly for the year ahead?
Child safety first
It can be easy to forget that your pool is just as dangerous for small children when unattended during the winter months as it is during the summer; so the most important part of winter pool management is to ensure child safety. While it's the law that pools and spas must be enclosed with a safety barrier, this doesn't always prevent young children from getting in, since older ones may unwittingly open a gate for them. That said, do make sure that your fences and gates are in a good state of repair by inspecting them on a regular basis.
We take child pool safety very seriously and would recommend you consider our winter shutdown cover which will take the weight of the biggest child and provides an even greater level of child safety. However, for the ultimate child safety barrier, look no further than Pool Safety Net. This is custom made to fit the exact specifications of your pool and we can also shape it around any features such as waterfalls or rocks so it doesn't detract from its look or interfere with any automatic pool cleaners. Fitting tightly across your pool, there are no gaps for children to crawl under.
Run or close your pool? It's your choice
If winters are relatively mild where you live you may decide to run your pool throughout winter. Even if you're not planning to swim in it, you may prefer to keep it open for aesthetic purposes. This being the case, you need to maintain your pool regularly and adjust chemical levels in line with falling temperatures. Remember to keep a close eye on pH levels and be aware that corrosion is more likely to occur during the cooler months. You'll also need to have your pool filter running Whatever you do, don't ignore your pool, or come the swimming season you'll find it in a sorry state and in need of a lot of preparation before you can use it.
Keeping your pool open throughout the winter is expensive when you take into account the electricity used to run the filter, the cost of chemicals, and wear and tear. Why not simply shut it up? Closing your pool properly during the colder months is especially important in areas where winters can be harsh since failure to do this can encourage the growth of algae as well as frost and filter damage from fallen debris. A professionally installed winter shutdown cover will completely seal off your pool keeping the water clean and fresh, so you don't need to filtrate or add chemicals. Leaves and debris will be unable to fall in, and since the cover blocks out the light, there is no danger of algae or mould being able to grow.
Be prepared for the winter with the right tools and you'll find it easy to keep it safe, healthy, and well maintained throughout the whole of the year. If you'd like to find out more about our winter shutdown cover or need pool advice then give our friendly team of experts at Just Covers. Call us today on 1300 268 377.