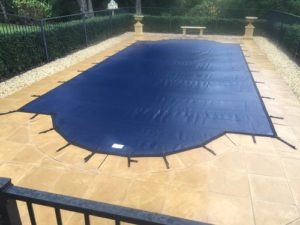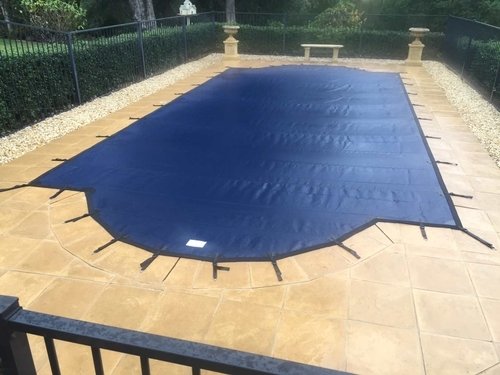 If you're considering investing in a pool cover (It's a great idea by the way 😊) you're probably wondering how to choose the best cover for your swimming pool. In this post, we're going to talk you through the options to consider, so let's dive in and take a closer look.
Automatic Pool Cover
An automatic pool cover is released simply by pressing a switch which makes it nice and easy for the pool owner. They're one of the best covers if you have children and pets to keep them safe around the pool, and while they are expensive compared to many other pool covers, you'll find they save you money in the long run.
This type of cover keeps your water warmer, so your heating bills won't fly through the roof. They also keep leaves and other debris out of the water, saving you money because you won't need to run your filtration system as often and you'll also be able to cut down on chemical usage. More importantly, a cover reduces water evaporation, so you won't have to top up your pool as much, saving costs on your water bill too.
Manual Pool Cover
This type of pool cover involves a 2-person crank and pulley system. The cover roll is installed at one end of the pool together with a hand crank. As you crank the handle, so the cover wraps around the roll. When you want to put the cover on, 2 people need to walk along each side of the pool pulling the cover with them by the corners. It usually works best on custom pools as well as for pools that don't get that much use but still needs protection. It provides the same benefits as an automatic cover only at the fraction of the price.
Solar Pool Covers
You may have seen these covers referred to as bubble covers and that's because they look very much like bubble wrap, covered in bubbles. They are the cheapest pool cover option and because they absorb heat from the sun, they can heat your pool up to 8 degrees. Installation is easy – simply cut to size and allow it to float on the surface. They help reduce the amount of dust and rubbish that gets in your pool, but it's important to note that they can't withstand the weight of a small child, so it's vital that you have other safety measures in place to prevent a dangerous situation from occurring.
Solid And Mesh Pool Covers
These pool covers are commonly used for closing your pool during the winter months. Not only are they cost-effective but, in addition, they provide protection and keep debris out of the pool. It is secured over the pool using a number of anchor points which are relatively discreet, and because they keep the sunlight out, they also help prevent the growth of algae. This, in turn, limits the cost and amount of cleaning which is normal when a swimming pool is re-opened after the winter. Because most pool covers of this type take longer to take off, they're not ideal for everyday use but best suited to total winter shutdown.
So, hopefully, that has helped you decide which type of pool cover you need. Here at Just Covers, we offer a variety of pool covers with the most popular being our leaf and debris covers. This superior pool cover is versatile and light and very easy to remove and re-fit to your pool. Our pool cover experts can design and custom build your cover to fit the exact shape and specification of your pool for a neat appearance. With proper care, it can be expected to last for 10 years or longer, making it a sound investment.
Find out more at our website or call  1300 268377 to speak to one of our pool experts.