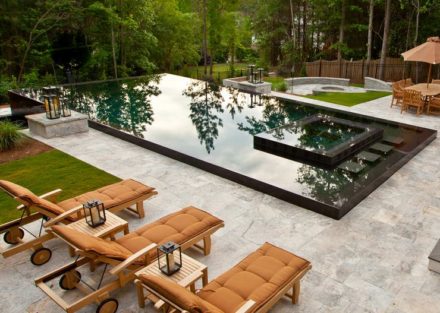 Just as home interiors have trends so do pools. Once kidney shape swimming pools were all the trend but while they're still popular there are a variety of other shapes to choose from. If you're considering installing a pool then here are some trends you might want to consider and the reasons behind them.
Top Pool Trends
Pool colours – Not so long ago pool interiors used to all be the same colour but nowadays there's a trend to choose the colour depending on the ambience you're trying to create. In other words, the colour of your pool's interior changes the perception of the water's colour. Blue and green shades continue to be popular but which shade do you opt for? A lighter blue colour makes the water appear brighter and lighter whereas a darker blue shade gives the illusion of a deeper pool and adds a more sophisticated look. Black and grey have also trended recently and while they may see a strange choice they're in keeping with natural pools surrounded by rocks of a similar colour.
Plunge pools – These are often the only choice if you have a small backyard and have their own set of benefits. For example, if you want a pool simply for relaxation and a place for the kids to splash around in, then a plunge pool could be ideal. While they're small and bijou they come in a variety of shapes and sizes and can be above or in-ground. They don't have to be deep and you can even add massage jets. Sounds good, right?
Pool landscaping – While pools aren't used every day of the year, because they are a focal point in your garden homeowners like to landscape around them to give a pleasing look. Be careful when choosing your plants, however, as you don't want lots of leaves or petal flowers blowing into the pool. Instead, consider plants such as ferns which don't drop their leaves.
Infinity pools – This type of pool which has no raised edge is a perfect choice for sloping land or land located on the edge of a lake or large body of water. They're extremely stylish and can make you feel almost as if you're on the edge of the world looking at the view spread out before you.
Waterfalls – While waterfalls serve no useful purpose they're stunning to look at and make a beautiful addition to your pool. They are often sculptural in design and make a pool look more natural.
Glass pool fencing – Fencing is a legal requirement if you have a pool and in this respect glass fencing is a great choice because it doesn't create a barrier with the rest of your landscaping or between your house and your pool.
The important thing when choosing a pool nowadays is to consider it as part of your landscaping as well as a pool for relaxation and exercise. It shouldn't be seen as separate from the house or the landscape instead, it should be considered an integral part of your home and blend in seamlessly.
Once you have your pool you might want to consider a swimming pool cover. At Just Covers, we manufacture top quality bespoke swimming pool covers for any shape and size of pool, even those with rocks and waterfalls. To find out more check out our website or give our pool cover experts a call on 1300 268377 to discuss your requirements.