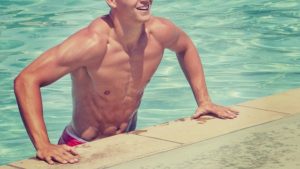 Are you undecided as to whether or not to install pool heating? There are several ways both you and your wallet can benefit from a pool heating system, so let's dive straight in and take a look.
Extends your swimming season
One of the main reasons people install pool heating is so they can use their pool all year round. Installing a heating system helps extend the swimming season meaning you can enjoy a swim at the perfect temperature whenever you like.
If the cost of heating your pool is a major concern then there are energy-efficient options you may want to consider to help keep costs low. One of the best ways to save money on pool heating is to use solar energy. Solar heating uses energy from the sun to heat the water in your pool. On a sunny day this type of heating can produce as much as 4 times more than the heat energy generated from gas or a heat pump.
Low maintenance
The average pool heating system doesn't require much maintenance. In fact, scheduling regular services enables your pool technician to keep your system in perfect working order, whatever the season is.
Makes the most of your investment
Installing a swimming pool doesn't come cheap so it seems a little pointless to let it sit there unused for half of the year. By enhancing your pool with heating it means you can use it more and optimise your initial investment. It could even add value to your property were you to consider selling it at some time in the future. A potential buyer may be more likely to buy a property with a pool that can be used all year round instead of just in the warmer months.
Stay fit and healthy
Swimming is a great form of exercise for people of all ages and what could be nicer than doing a spot of water aerobics or swimming a few laps each day in a lovely warm pool? Furthermore, if you suffer from joint problems or injuries, a low impact form of exercising such as swimming will help keep you more mobile and make you feel healthier.
Control your pool remotely
Many heating systems are provided with smart options. This means you can operate your pool using your mobile phone or tablet. This means that no matter where you are, you can set your pool heater to come on at a certain time so that it's the perfect temperature by the time you're ready to use it. Even better, it will save you costs on your electricity since you will only be using the pool heater when it is needed.
Of course, if you prefer to close your pool down for the winter, then our winter shutdown cover could be just right for you. When it is properly installed, it seals the pool preventing any dirt or debris from entering and, since no chemicals or filtration are needed, it cuts maintenance costs too.
To find out more why not visit our website or contact one of our friendly pool experts by calling 1300 268377.