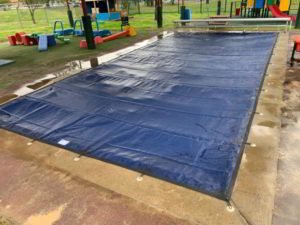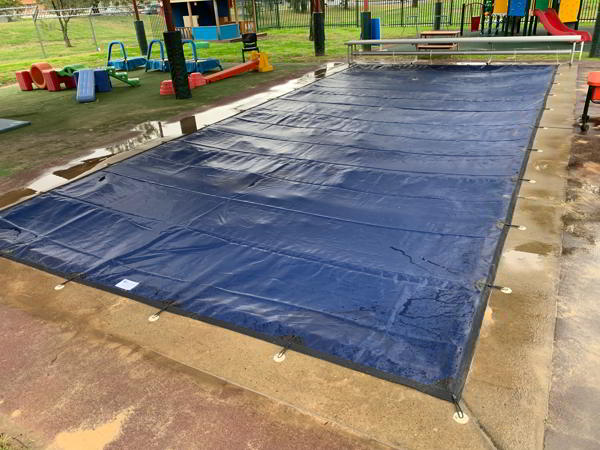 If you're looking for sandpit covers in Melbourne, we can help. We specialise in making custom covers for sandpits of any size and shape. Little ones love to play in the sand, but it's not much fun if the sand is dirty or wet. A sandpit cover keeps the sand clean and prevents it from getting blown around in strong wind or getting wet when it rains.
Recently, people have become more aware of potential health risks associated with children's sandpits. Consequently, many kindergartens, childcare centres, and schools have taken the decision to cover any sandpits when they're not being used. This stops animals from soiling the sand and prevents contaminants from finding their way into the sandpit. Our custom covers also keep fallen leaves, dirt, and pets from getting into the sandpit and can be fitted around rocks, walls, trees, poles and any other obstructions.
Sandpit covers Melbourne – Lightweight yet strong
The trouble with many sandpit covers is that they're flimsy and rarely fit properly. Often the wind gets beneath them and rips the material, or they crack and split in the hot sun. Fortunately, that's not the case with our bespoke sandpit covers.
We make our sandpit covers from a type of woven polythene which we have sourced from the USA. Not only is the fabric lightweight and strong, but it's also breathable and UV treated to prevent it from fading in the sun.
Its fine mesh allows rainwater to gradually soak through the fabric, gently cleansing the sand as it does so. Furthermore, this type of material prevents any water from pooling on top of the cover, which otherwise could create a hazard for children and make it difficult to remove the cover when they want to play.
For additional strength, our sandpit covers are also reinforced with welded seams which run across the cover from end to end and the edges are also neatly hemmed all the way around. Designed and installed by our sandpit cover experts, they are supplied with a 5-year warranty.
Our sandpit covers stay in place thanks to the use of special fixtures and fittings which enable us to secure them to a variety of surfaces, including timber, walls, and natural rock. These fittings are also designed so that children can't stub their toes or trip over them, resolving many of the issues associated with standard fittings, which we know of from our long history with this product.
Sandpit solutions
Sandpits come in many shapes and sizes, some of which can be difficult to cover. We get around this by custom fitting the cover inside the pit itself using weighted rope inside the hem of the cover. Your custom sandpit cover will be perfectly shaped to fit around any obstructions.
Keep your little ones protected with a Just Covers custom sandpit cover. Give them the ultimate protection they deserve from sandpit covers in Melbourne. Find out more by visiting our website or call us on 1300 268377 if you need more information.