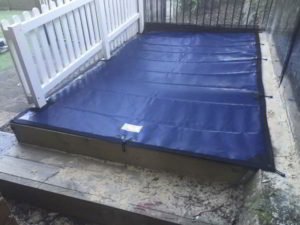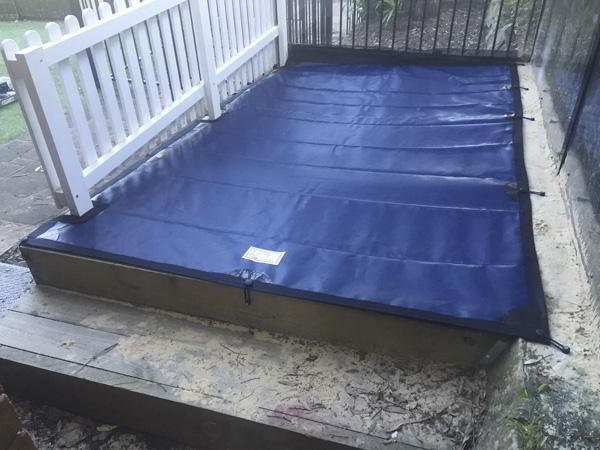 Just Covers specialises in making sandpit covers in Sydney, which are some of our most popular products. Children love playing in sandpits but it's not much fun if the sand is dirty and soggy. Keeping your sandpit covered keeps the sand clean and prevents it from getting wet when it rains or blowing around in a strong wind.
In recent years there has been more awareness of the potential health risks associated with sandpits for children. As a result, many schools, kindergartens, and childcare centres have taken the initiative to cover sandpits when they're not in use to protect children from animal faeces and other contaminants which can find their way into the sand. Our custom sand pit covers prevent animals, fallen leaves, and dirt from getting into the sandpit and can be fitted around walls, rocks, poles, trees, and other obstructions.
Sandpit covers Sydney – Lightweight yet strong
Our sandpit covers are made from woven polythene which we get from the USA. Lightweight, breathable, and strong, the material is UV treated, to help prevent it fading in the sun. Any rainwater gradually soaks through the mesh gently cleansing the sand on its way. Unlike many other types of sandpit cover, the material we use prevents water from pooling on top of the cover, causing a potential hazard for young children, and making it difficult to remove the cover.
Our sandpit covers are reinforced with welded seams which run across the entire cover providing additional support and are also neatly hemmed around the edges. Designed and installed by our sandpit cover experts, they are supplied with a 5-year warranty.
We use a variety of fixtures and fittings which enable us to secure our sandpit covers to a variety of surfaces including walls, timbers, and natural rocks. Furthermore, our unique fittings are designed to avoid children stubbing their toes or tripping over them – resolving many of the issues associated with standard attachments which we have become aware of during our long history with this product.
Sandpit cover solutions
Sandpits come in numerous shapes sizes, and structures which can often be complicated to cover. We find the best method for covering unusual shaped sandpits is to custom fit them inside the sandbox itself. We may have to use weighted rope inside the hem to keep the edges down and to stop the wind from lifting the cover. It's less fiddly and complicated to handle than traditional chain systems and prevents any parts from getting clogged with sand. Your custom sandpit cover will be perfectly shaped and hemmed to fit around any obstructions.
Keep your child or children protected with a Just Covers custom sandpit cover. Give them the ultimate protection they deserve with sandpit covers in Sydney. Find out more by visiting our website or call us on 1300 268377 if you need more information.