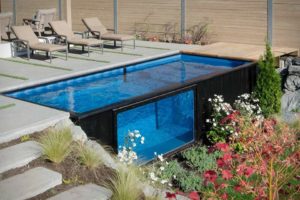 Shipping containers have long been a useful way of transporting goods in Australia, but more and more Aussies are now unleashing their creating sides and turning a battered old shipping container into a sleek and modern shipping container pool.
If you're exploring an alternative way of having a swimming pool in your backyard that doesn't include an inflatable pool, then you might be interested to know that a shipping container pool provides many advantages.
5 Advantages of a Shipping Container Pool
Above or below ground – A shipping container pool doesn't have to sit above ground, it can also be in the ground. Sure, the same can be said for a traditional swimming pool but thanks to its long narrow shape, there are more options when it comes to finding a place to put it. The additional space is great for add-ons too.
A  container pool can have a window – Did you know you can have a window within your container pool if you decide to place it above ground? Yes honestly. There are several design ideas that include this unique feature which also gives it a real wow factor. You don't have to stop at just one window either. Why not go for smaller port hole style windows and turn your pool into something that resembles a sea vessel?
Faster to create than a concrete pool – If you're thinking of installing a concrete pool in your garden then you'll need to wait a week or more for it to dry and cure. This can delay the completion of your swimming pool's construction and if summer is fast approaching, this isn't the best of news. With a shipping container pool, however, there's the option of ordering a container pool and getting it installed much quicker.
You can move a shipping container pool – One of the benefits of a container pool as opposed to a concrete pool is that you have the option of moving it, if you need to. For instance, if you wanted to move it so that you could create room for a garden shed or a summer house, then no problem. Furthermore, should you decide to up sticks and move, you can always take your shipping container pool with you.
Less fencing is needed – Pool fencing can add considerable cost to the overall price of getting a swimming pool in your backyard. Whereas if you install a shipping container pool above ground you can combine the fence and gate to a much smaller section of the pool to zone it off. This is a far cheaper option than traditional swimming pool fencing.
A shipping container pool has many options over a traditional swimming pool, so why not consider investing in one. It's a good idea to cover your pool to prevent leaves and debris from entering the pool.
Here at Just Covers our premium leaf and debris cover is the perfect choice for a container pool and can be ordered to the exact specification of your pool. We can even come and install it, if you prefer.
Why not take a look on our website or give us a call on 1300 268377 to speak to a pool expert and discuss your requirements.