Solar Covers & Rollers
Solar Blankets are for summer use and very effectively warm the water and control evaporation.  However, these covers are not intended to keep out leaves or debris. If you require a winter cover, you would be best to consider our Leaf & Debris Cover or Winter Shutdown Cover.
Buyer Beware!
Not all solar blankets are created equal.  We regularly receive calls and emails from people who were lured into buying cheap imported blankets.  These blankets rapidly break down in the Australian sun and often require replacement after only 12 months of use.
The Australian manufactured Daisy 400 and Daisy 525 solar covers feature the Ultradome Bubble and are the best solar blankets that money can buy.  They are respectively backed by 5 and 10 year warranties.  Please choose your blanket carefully and avoid cheap imitations.
How do solar blankets work?
Solar blankets look like bubble wrap and float freely on the top of a pool without tie-downs or anchors to hold them in place.  The sun's rays are collected through the translucent bubbles to heat the water during the day.  The more light that enters the pool, the more heat that will be collected.  Light colored covers are better solar collectors than dark colors!
Evaporation is not only a waste of precious water.  It is the major cause of heat loss from your pool. Solar Blankets reduce evaporation by up to 95%, both saving water and warming your pool.  Heat is also lost by radiation to the atmosphere, mostly by night.  The sealed air bubbles in solar blankets act as an insulator to reduce radiation to the cold night air.  The combined result is a 5 – 10 degree increase in your pool temperature and a water saving of up to 10 000 litres per year!
Solar Blankets are normally supplied with a roller system for ease of removal, easy storage and proper care of your cover.  Rollers can either be stationary or supplied with casters so the cover can be simply wheeled out of the way when not in use.
Durability
Daisy is the largest wholesaler of Solar Blankets in Australia and offers a fully Australian manufactured, quality cover.   The material comes in 400 and 525 micron thickness, which is pro-rata warranted for 5 years and 10 years respectively.  The thickness of the material does not significantly alter the heat collection or heat retention of the cover, but the thicker material is more durable and will have a longer lifespan.
The Daisy 525 cover is recommended for most pools because of its long service life.  However, on larger pools where the weight of the cover is a greater consideration, the Daisy 400 will be easier to manage.  Some companies are now offering a 600 micron blanket.  This product is not recommended because it is too stiff, heavy and difficult to roll.
The service life of a quality Australian made Daisy solar blanket will vary depending upon your situation but can certainly be in excess of 10 years.  In comparison, cheap imported covers usually only last for 1 or 2 seasons.
Installation
A solar blanket is a relatively easy DIY task and many customers choose to save money by installing the cover themselves.  The cover is supplied as an oversize rectangle or other basic shape.  To install, simply lay it over the pool and cut to shape with a pair of scissors using the perimeter as a guide.  Sharp scissors will easily glide through the material.  The roller is then assembled and attached to the cover.  Please see our self-installation video below. Instructions for obtaining the correct pool measurements are also provided at the bottom of this page.

We provide a full measure and installation service option within our service areas.
Difficult Shaped Pools
To make your Solar Blanket easier to use, with certain shaped pools we may advise not to cover the whole pool surface, leaving some parts uncovered.The reduced heating, heat loss and control of evaporation is a direct ratio of how much of the pool is covered to how much is uncovered. So if 90% of the pool is covered, the Solar Blanket is still 90% effective. This may be a small trade-off for making the Solar Blanket much easier to use! Depending upon the pool shape or obstructions at the ends, it may be advisable to have your blanket roller spanning across the pool. The blanket will initially roll on double, making it even quicker to wind. See picture below…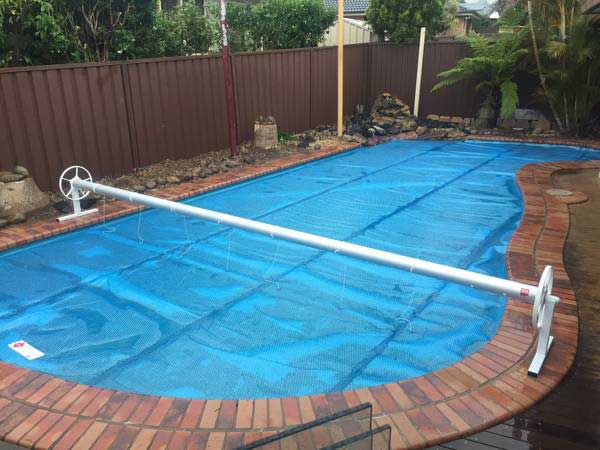 Daisy ST Roller spans a pool which has obstructions at each end.
Pool Cleanliness
It is important to realize that although any cover will reduce some of the leaves & debris from entering your pool, the purpose of a solar pool cover is not for pool cleanliness.  Much of the leaves and dirt will still get into the pool with a solar cover fitted.
The purpose of the solar cover is to reduce evaporation and to keep your pool warm.  If you require protection from leaves and debris, we suggest our Leaf & Debris Cover or Winter Shutdown Cover.  In particular, the Leaf & Debris Cover is effective in conjunction with a solar blanket.
Safety 
The Solar Blanket alone is not child safe and it is possible that a child falling into the pool will be trapped beneath the cover with disastrous results.  The Solar Blanket can be installed in conjunction with Pool Safety Net to provide an effective safety barrier.  See photo.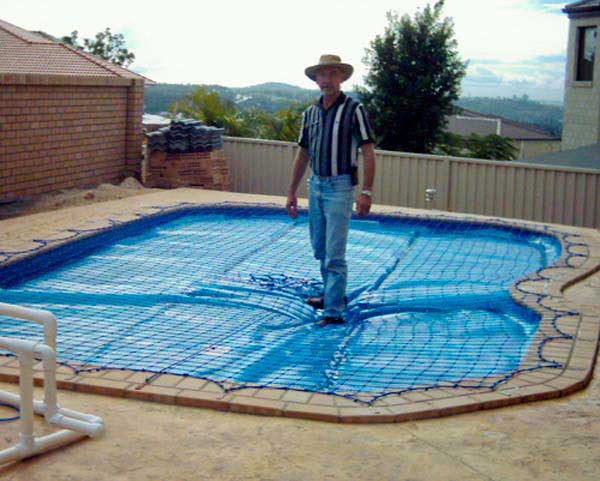 Indoor Heated Pools and Non Heating Cover
Daisy 525TC (Titanium Cool) is the premium product for indoor heated pools or outdoor pools in hot climates where solar heating is not desirable.  A normal solar blanket is translucent to maximize solar collection from the sun. A non heating cover is not designed to collect heat, but rather, to retain it.  The Daisy 525TC Cover is almost totally opaque to minimise algae growth in the heated water environment.
The Daisy 525TC Cover is silver grey on top so it's pleasing to the eye.and is warranted for a period of 10 years.
The Daisy Under Bench Seat Hidden Solar Roller combines practicality and style to transform your pool roller into useful seating. Simple yet stylish, the UBR is not just a roller, but a practical addition to your poolside furniture. Available in aluminium or a choice of wood look finishes, this roller will look stunning on your pool deck. Be sure to ask us to quote the UBR option when making your enquiry.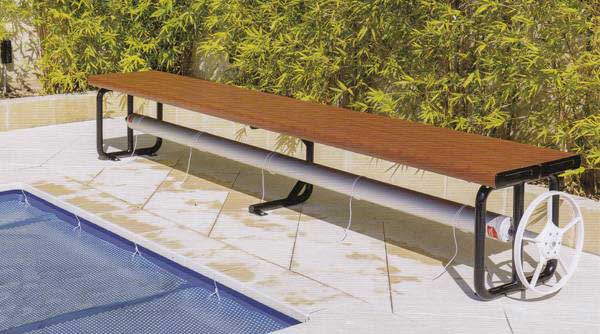 Daisy Under Bench Roller – Available in Cedar, Oak or Anodized