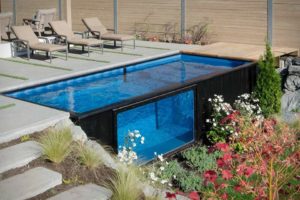 If you're looking to have your very own small swimming pool in your backyard, you may be considering a container pool. But are they your best option? We take a look at how containers are transformed into swimming pools together with the advantages and disadvantages.
About shipping containers
Most of us know that shipping containers are large rectangular steel boxes which are predominantly used on ships to transport all types of goods around the world. However, in recent years, the trend has been to repurpose them and use them for a variety of other purposes including offices, homes, and swimming pools.
The containers are given a thorough clean and de-rusted before having a lining inserted to transform them into a swimming pool. Some containers are given an extra lining of steel whereas others have vinyl liners inserted. Top-quality container pools have fibreglass inserts which often include built-in seating as well as space for swimming. These are also more durable than other types of container pools.
Once a container has been turned into a swimming pool, it's transported by a truck and delivered direct your home. A crane is then used to install it. This type of pool is supplied with its own filtration system meaning that once your electrics have been connected and the pool is filled with water, you're up and running!
So, what are the advantages of a container pool?
Quick and easy installation
The obvious advantage is that installation is quick and easy. Since container pools are intended to be above ground, you avoid the excavation and preparation that's needed for an in-ground pool. This fact alone, lets you get on with your life with the minimum of disruption.
Ready to use right away
Since most containers are supplied as a complete kit with a filtration system and pool lighting. This means they can be used almost right away, once they have been connected to the electrics and filled with water.
Easily moved
Another advantage of a container pool is that since it is transported on a truck by road, you can take it with you should you decide to move home. How's that for convenience!
Alternatively, should you put your house up for sale, the pool can be included as part of the deal, or if the new owners don't want it, then you can always sell it on.
Furthermore, container pools are an attractive option because they are very affordable. That said, standards of quality do vary, and while you can pick up a container pool for as little as $6000 it's likely to be poor quality. The most durable and safest container pools are those with fibreglass inserts (which cost between $20000 and $30000). This is still a steal compared to the cost of having an in-ground pool installed in your yard.
What about the disadvantages?
Well, apart from the variance in quality of container pools there are a few other disadvantages to consider.
Shape
The most obvious disadvantage is that you are restricted to one shape – long and narrow. While this is great for lap swimming, it's not ideal for family use where you want to play games in the pool and relax together.
Although shipping containers come in two sizes – 6 metres and 12 metres – their width is always the same. This means that a container pool may not fit into the shape and size of your backyard.
Appearance
Probably, the biggest disadvantage of a container pool is its appearance. While some container pools have windows inserted into them and can be painted in various colours, they still end up looking like shipping containers.
However, it is possible to be creative with your landscaping, particularly if your back yard slopes. You could, for instance, build a patio or decking that aligns with the top edge of your container pool and have steps leading down to a lower landscaped section.
If you do decide to invest in a container pool, then it's advisable to purchase a cover for it. Not only does a cover keep insects and debris out of your pool, but it can help lower evaporation rates and keep your water warmer.
At Just Covers our premium leaf and debris cover is the perfect choice for your new container pool and can be ordered to your container pool specification. With no pre-measure necessary and no fuss, not to mention our 5-year guarantee, keeping your pool covered couldn't be easier.