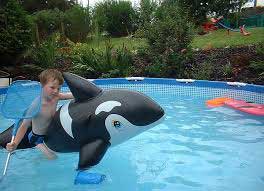 Most kids love nothing better than splashing and frolicking in a swimming pool. They can spend hours playing games, jumping off diving boards, shooting water guns, pouring buckets, slipping down water slides, and jumping on and off inflatables. If you're renovating or building a pool in your backyard then it's a great idea to add some features for little ones, whether your own, your grandkids or your nephews and nieces – or hey ….. even your inner child!
Here are just a few ideas to consider:
Beach entry – This kind of gradual slope into your pool is practical and works well for any age. It's lovely for babies who enjoy sitting in water and splashing around them and it's great for adults looking to cool off without being fully immersed. It's also extremely practical for seniors who struggle with climbing steps or ladders, or for those with a physical disability. This type of pool entrance only works well if you have a large space for your pool since it takes up a lot of room before the water deepens.
Shallow water – rather than creating a separate kiddies pool it's nice to have a shallow end that little ones feel safe walking in without worrying they'll go right under. Naturally, adults should always be within an arm's reach of a child.
Slides – Slides have to be the ultimate pool feature and will keep children and adults amused for hours. They can be incorporated subtly into rockwork or set up independently. It needs to drop into the deepest part of your pool and you'll also need to consider how much space is needed on your deck. Finally, think about those who use your pool the most (and their weight) in order to choose a slide that can accommodate them.
Water features – Kids love to interact with water be it bubbles in the ground to streams of water shooting across the pool. They're fun to play with and beautiful to watch, and adults like them too. There are lots of interactive water features you could consider installing such as sheer cascades, waterfalls, mini-jets, and rain curtains. They come with LED lights and can be operated by your smartphone.
Shade – Lastly, a canopy or shade structure over the shallow end of your pool will help keep the sun off little ones as they play around in the water.
Top tip: canvas works better than trees which will deposit leaves in the pool. Also, a canvas cover can be removed if you want more sun or to make it easier to clean with a hose.
Talk to your pool builder if you're interested to include any of these features in your pool. Although pools are fun places to be, don't forget the dangers they can also pose for children. Don't take chances.
We can provide you with a superior pool safety net which really is the ultimate barrier between your child and the pool. All of our pool covers are custom made to fit any pool shape and pool features. You can read more about it on our site or get in touch with us by calling 1300 268 377.