What do you want from a pool cover?
Increased child safety?
Reduced pool maintenance?
Solar pool heating?
Warmer water temperature?
Extended swimming season?
Massive saving on energy bills?
Eliminate dirt and leaves?
Huge savings on pool chemicals?
Prevent algae growth?
Reduce evaporation and save water?
Just Covers specialize in the supply and installation of Leaf & Debris Covers, Vinyl Swimming Pool Covers, Shutdown Covers, Solar Blankets and Child Pool Safety Nets. We supply swimming pool covers for DIY Australia wide and provide a full measure and installation service in the greater areas of Sydney, Melbourne, Canberra, Brisbane and Perth as well as the Gold Coast, Sunshine Coast, the NSW Central Coast & Illawarra. We are your one-stop-shop for all types of swimming pool covers - hence our name - Just Covers.
"The Just Covers team is totally dedicated to achieving a perfect result"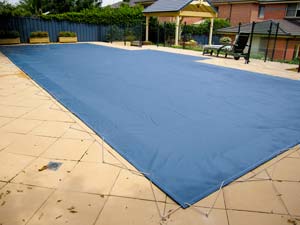 Save Big $ with Pool Shutdown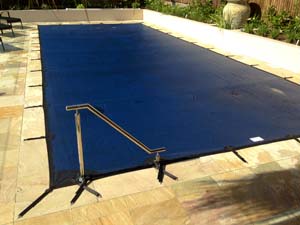 Our Leaf & Debris cover is convenient, lightweight & easy
Because we sell all pool cover types, we offer unbiased advice about the best pool cover solution for your pool. We sell only quality Australian made covers which carry a minimum 5 year warranty. Even longer warranties are provided on some lines.

There is a wealth of information on our site about pool cover selection, installation and care. We will design your cover to fit perfectly around rocks, water features, fencing and nearby obstructions. We also offer a great cover solution for wet edge pools.

Just Covers are the experts when it comes to fitting a cover to a pool which others reject as impossible. Please view recent examples of our work including some of our more challenging installation in our Gallery.

Please also be sure to read our pages on Pool Shutdown & Child Pool Safety.

Let us show you how our products can improve child pool safety as well as saving you heaps on pool chemicals, maintenance and energy bills.